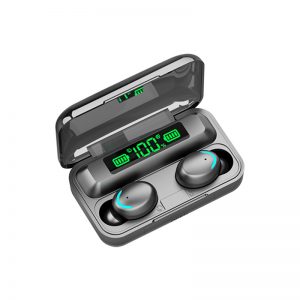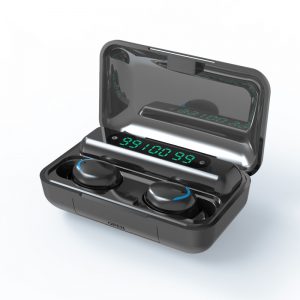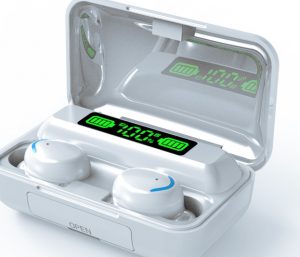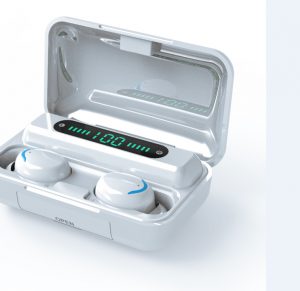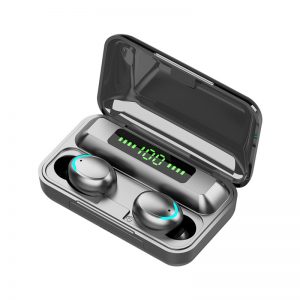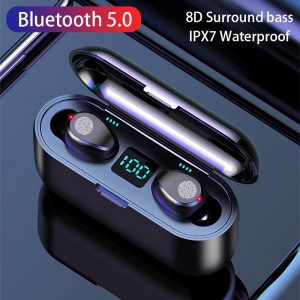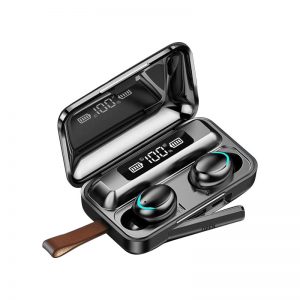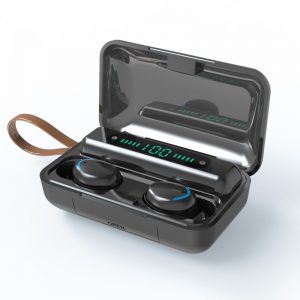 Product Description
Type
Wireless Earphone
Feature
LED Display & 2200mAh Powerbank For Phone Charging & Touch Control
Material
ABS
Weight
Waterproof Level
IPX 7 Waterproof
With Microphone
Yes
Packaging
Color boxes 1pc/retail Package
Sample
Accept small sample order
Function
Auto connect after startup & Support Single Ear Use
Order Lead time
10~20days
Use for
For any smart phone
CUSTOM
Accept custom logo and print, packaging
More Feature
 

 

Product model F9 5.0 Bluetooth version V5.0
Noise reduction version CVC8.0 working distance within 10 meters connection
Single ear capacity 50 mA Charging bay capacity 2000 mA
Automatic power on support Automatic pairing support
Life time: 220 hours or so (need to be used with charging bay)
Talk time is about 180 hours accumulatively (need to be used with charging bay)
Headphone charging about 40 times, charging bay input current 5V 1A
Button light Red and blue control mode Smart touch
Play pause (tap the left ear once), answer and hang up (tap the left ear once), summon Siri (press and hold the left ear for 1 second), decrease the volume (tap the left ear once),
Product Features
Left ear 3 times), switch the previous song (touch the left ear 2 times), switch the machine (long press for 5 seconds)

Applicable products Smart matching mobile phones and tablets (compatible with Android/iOS and other systems)
Earphone charging: Put the earphone into the charging compartment and close the lid, the earphone will be charged automatically, the earphone will light up in red when charging, and it will go out when it is full.
charging method
Charging in the charging bay: After connecting the data cable, the red light in the charging bay is fully charged and the red light is off

*The above data is obtained from the manufacturer's test. The actual use time may vary slightly due to different environmental factors, which is for reference only

 
In-ear headphones, also known as ear-canal headphones, in-ear earplugs, or in-ear monitors (ie, the full English name of IEM: In-Ear-Monitor), are earphones used inside the human auditory organ. According to its design, Will seal the user's ear canal during use. It can eliminate external noise interference, the sound quality is full and clear, and it is light and easy to carry. But people often complain that the headphones are too small and the bass part is insufficient, and they often fall out. Next, I will talk about the correct way to wear earphones for your convenience.
1.For better sound performance, the earmuffs and the ear canal must form a good airtight environment. Therefore, we must first confirm the airtightness and strive to istinguish between the left and right earphones.
2.In order to better enable the earphones to enter the ear canal, use water as a lubricant.
3.Correspond to the correct ear canal, pick up the earphones and start putting them in your ears.
4.Gently place the earphones in the ear canal.
5.Gently turn the headset and slowly insert it.
Precautions
1.It can be turned in or out, until the earphone is comfortable in the ear canal
2.In the case of ensuring comfort and safety, please ensure that the earplugs are inserted deep enough to ensure that a closed environment can be formed
3.The human ear canal is about 2.5cm long, so wearing earphones will not cause damage to the eardrum, but you should still wear and write earplugs carefully.